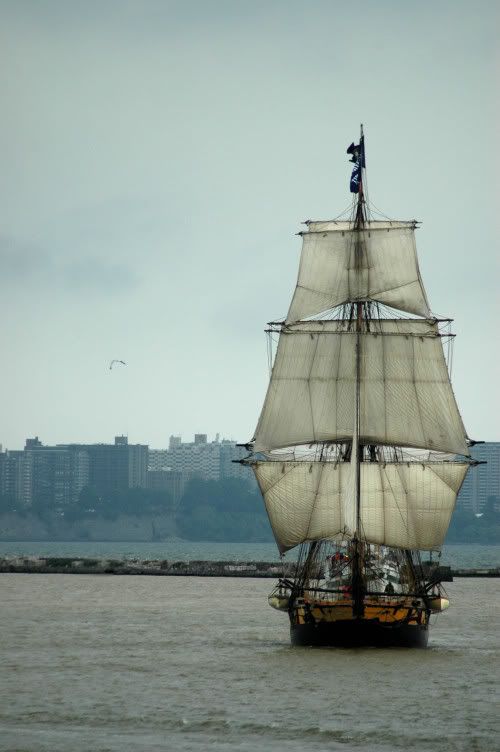 (The photo above is from a recent Tall Ships festival. There are more images from that event and some other miscellaneous sailing images in the album in the right column).
For someone who doesn't swim well and who has never owned a boat or known someone well who has, its interesting that - as I look back on life - some of the memories that stand out the strongest are all linked to being out on the water.
Moonlight shimmering in a silver path over gentle seas to the exact spot on the ship's rail where I stand. Awakening in my blanket on a cool teak deck to see a billowing white sail catching the breeze directly above my head – the ship's cat nestled snugly at my feet. Quiet moments in contemplation as pungent salt air fills my lungs and cleanses my soul. Watching from the balcony as green forest along the banks slowly transforms into the breathtaking dunes of the high desert. Hoisting the sails at sunset as the ethereal sound of bagpipes signal both departure and hope for the new dawn.
Each memory – some now more than 20 years past – deeply engrained to the point where I can taste the remnants of a tang upon my lips if I close my eyes long and tight enough.
Sometimes when life seeks to overwhelm, those are my favorite memories to evoke – for rarely have I felt as free and easy as when the sea breeze is in my face. As I write this, I am there once again, hoping for that same healing strength to descend once more.
We all need that special place to which to escape now and then. I sincerely hope that yours is as pleasant as mine.