I realize that this entry is less then timely, but I had not intended to write about a day where I felt no right to intrude. Instead, I offered silent thoughts and prayers and thanks to the spirits of my mother and grandmother and sent private wishes to friends.
But this past week, my path has been crossed by the celebration of new life too many times to ignore - and there must have been a reason that my camera was nearby in each instance.
It began early in the week. It had been raining for what seemed an eternity and my mood and my outlook matched the cool and unrelenting grey of the sky. Everything I touched seemed to crumble in my hands and I was feeling incapable of accomplishing anything positive. And then I looked up and glanced out the window. Not ten feet away – on the fringe of the treeline that separates my small slice of heaven from civilization -was a new mother deer, resting upon the cool grass and watching over her two baby fawns. They could not have been two days old – perhaps born on Mother's Day itself - tiny and wobbly on the spindliest of legs, portions of their fur a bit matted, perhaps still from birth.
In quiet awe, I watched from the window as she tended to them endlessly, fretting over tiny details and always casting a watchful eye when one tried to stumble about, tentatively exploring this strange and wonderful new world. Be it love or instinct or a combination of the two, she was as doting a young mother as any being released from the hospital that day with her own bundle of new life cradled safely in her arms.
Next came the opportunity to watch the preparation for life, as a quiet and patient – but ever watchful – mother robin sat proudly upon her nest, awaiting the new adventure soon to begin. I sat quietly, carefully observing as she positioned and repositioned herself just so in order to warm and protect what will soon be her young. Each quick movement or unusual sound caught her attention, and it was evident that she wished to fly from her perch to safety in the nearby woods on many occasions. But the instinct was strong and she stayed her ground in each case, knowing that young lives depended upon her warmth in order for them to enter this world.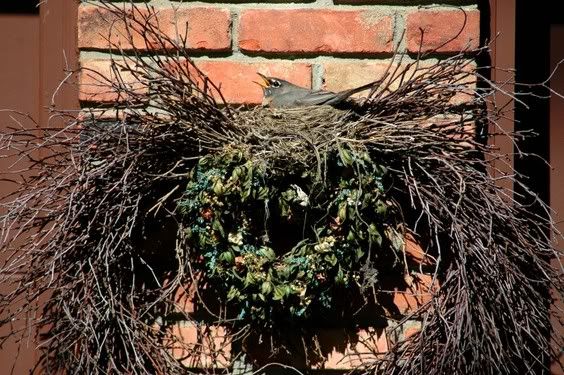 Finally, as the week drew near its close came the final indelible image – and the decision to add this entry. I was near the mouth of a major river channel, where powerful pleasure craft jockeyed for position with 1000 foot long ore carriers to be the first to reach open water - tall buildings and massive lift bridges framing the scene. Yet over the drone of the massive ship's engines and even over the soul-rattling sound of the ship's air horn and the bridge's warning bells could be heard a much smaller but insistent sound that forced one to turn and observe. Over the crest and then down a small grassy hill near the edge of the water came a no-nonsense Canada Goose, herding three small goslings. Noisily, she called and scolded and prodded her seemingly reluctant offspring to stay together and continue moving in the direction she had set – and obediently and a bit dazedly they complied. Along the narrow walkway they proceeded – and all the people in her path wordlessly parted and cleared the way. As the sidewalk faded to gravel and then to rocks leading down to the water, she led her babies in – and a small crowd gathered silently to watch this tiny family make its way to its next destination, mom leading fearlessly - her head held high.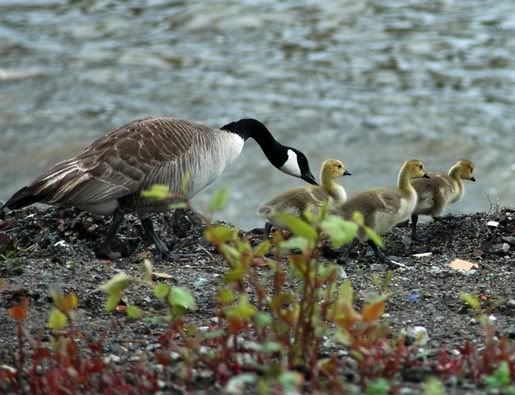 In all the world,there is no love quite so pure as a mother's love. Albeit belatedly: to all who have blessed this world with children - tended them, taught them, nurtured them and loved them, thank you - and God bless you.